When geology turns into an adventure …
Signs of super-volcanoes and ice ages are hidden treasures. Only where man has extracted rocks in quarries or places where the valley has cut deep into the rock is it possible to appreciate the dimensions of these volcanic remains. The visitor centres called Geoportals in the Geopark Porphyry Land and the Georoutes provide an opportunity to see and learn about these geological jewels. Come and enjoy this exciting geological adventure!
Grauwacke-Steinbruch am Collberg
The wealth of natural rocks, clay, sand and china clay started a small-scale industrialization of the region in the 19th century. The process was especially encouraged by the ceramics industry as well as the extraction and use of the different varieties of porphyry. This development is documented and explained in the geoportal museum Steinarbeiterhaus Hohburg, in temporary exhibitions and along the Georoutes.
The narrow gauge railway network around Mügeln was constructed for transporting agricultural products and china clay. Today, the Döllnitzbahn railway with its steam and diesel trains is a tourist magnet.
Dampflok der Döllnitzbahn am Geoportal Bahnhof Mügeln "Erlebniswelt Kaolin"
You can explore the sights of the Geopark Porphyry Land on your own or use our services such as public guided tours and lectures to learn more about the Geopark. Or visit events such as the Bergfilm-Festival or "Performance zum Stein", Geotope Day and the Industrial Heritage Days published in our richly-filled Event calender, to discover hidden treasures. New event ideas such as the Sound Trail around the Kirchbruch Beucha or the Geopark classics and especially the children's musical "Supervulkan!" bring together geology and culture.
Klangpfad um den Kirchbruch Beucha im Juni 2019
"Fred Porphyrstein" is the name of an exciting facility at the Geoportal Röcknitz specially designed for our young geopark visitors: a volcano playground where children can slide, climb and play. On the journey to the playground or at any time in between, the internet portal www.Kinderporphyrland.de provides a choice of stories and games centred around the red porphyry rock.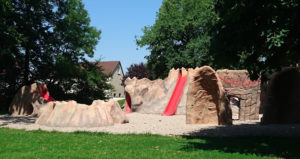 Vulkanspielplatz "Fred Porphyrstein"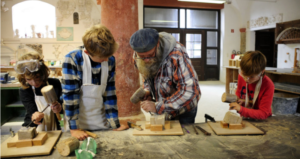 Steinbearbeitung in der GeoErlebnis Werkstatt im Rittergut Trebsen
The Geopark is also an area with a outstanding cultural heritage that is evident in the numerous castles, palaces, abbeys and churches. For more information, tour recommendations and touristic offers please visit the portal "Region Leipzig".