Climate Protection in the Geopark Porphyryland
ZENAPA – An overview
The EU project LIFE-IP ZENAPA, which was approved in November 2016 with eight million euros, stands for "Zero Emission Nature Protection Areas". Under the leadership of the Institute for Applied Material Flow Management, the project is set as a large-scale project for eight years. The project area covers about ten million inhabitants on about ten percent of Germany's total area, combined into eleven large protected areas.
The goals are to achieve CO2-e neutrality (e stands for equivalent) and to bring an economically viable energy transition in accordance with the requirements of nature, wildlife and climate conservation. In this regard, 12 master plans have been developed, action plans launched and a number of different projects were initiated. The website zenapa.eu provides information on all details.
A video report on the ZENAPA Annual Conference in Bollwick in April 2018 provides an insight:
For privacy reasons YouTube needs your permission to be loaded. For more details, please see our
Datenschutz
.
I Accept
Newsletter ZENAPA (german)
ZENAPA in the Geopark Porphyryland
In order to protect our region for future generations, great effort must me put into natural and climate conservation. However, it is not easy to connect environmental conservation with climate conservation projects or to involve the citizens and at the time create economic value. This is exactly the goal ZENAPA has set for itself.
The Geopark Porphyryland. Steinreich in Saxony is a participant in ZENAPA. One of the first project successes is the founding of the Wurzener Land-Werke GmbH in December 2016. The municipalities of Lossatal, Thallwitz, Bennewitz and the town of Wurzen have joined forces to form this regional energy company to amplify synergies and to be able to procure energy together. The focus is on the joint construction and operation of renewable energy plants and local heating networks, as well as on the implementation of sustainable energy projects for the citizens. The project is supported with 40,000 euros from the EU "LIFE" funding programme.
From July 25th to 26th 2017 the Geopark Porphyryland invited representatives of the European Commission and the NEEMO Monitoring Team to Thallwitz. This meeting was an opportunity to get to know the region, to monitor the progress of the project and to exchange information. Since April 2018 the Climate Manager Lutz Simmler is responsible for the implementation of the ZENAPA project in the Geopark Porphyry Land.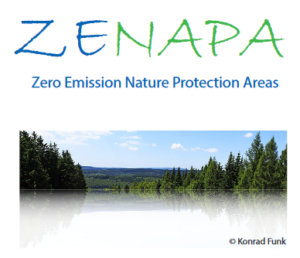 Leaflet ZENAPA