Geoportal Hohburg
Museum Steinarbeiterhaus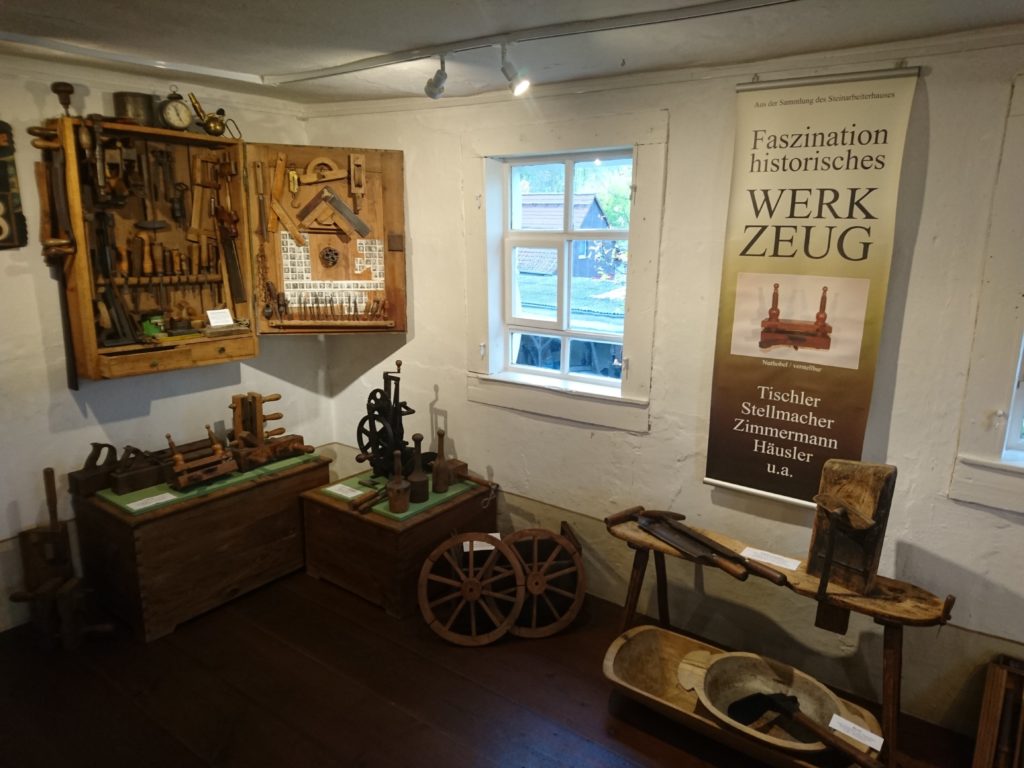 Built in 1802 this originally preserved half-timbered house was home to quarry worker's family until 1910. The realistic reconstruction of the living and working quarters gives a good impression of the confined space, bareness and the hardship of this life. The kitchen, living room and bedroom have been preserved as if the family had just left the house. The furniture and tools for working in the field, garden and barn look ready to be used.
Extracting and cutting the rock was extremely hard manual work, which was also carried out by the women. Historical equipment and working machines are on display in the extensive open space, documenting the gradual mechanisation of work in the quarries. These include a rock crusher, a light railway and the machine house with a steam locomotive built in 1907.
The attic of the half-timbered house has been converted into a typical general store from the days when your grandparents were young, where you can buy small delicacies and regional products.
Things to do at the Geoportal Hohburg
Guided museum tours
Historic technology demonstrations
geological tours in the Hohburg Hills
Georoute Kleiner Berg
signposted trail to the ice age wind and glacial striations on the Kleinen Berg Hohburg (distance 3.3 km ), Start/end: Museum Steinarbeiterhaus Hohburg
Georoute Mining Trail
signposted trail to the quarries of the Hohburg Hills (distance 5 km), Start/end: Museum Steinarbeiterhaus Hohburg
Coffee and cake in the idyllic orchard or in the former quarry worker's canteen for groups up to 35 persons
regular Folk, Dixieland or Country concerts in the museum garden
Oldtimer and baking shows
Special exhibitions, christmas folk art exhibition
Nächste Veranstaltungen in den Geoportalen
Information

Opening Hours
Sunday – Thursday: 13:00 – 16:00
Guided tours by arrangement
For privacy reasons Google Maps needs your permission to be loaded. For more details, please see our
Datenschutz
.
I Accept