Geoportal Train Station Mügeln
"World of Kaolin"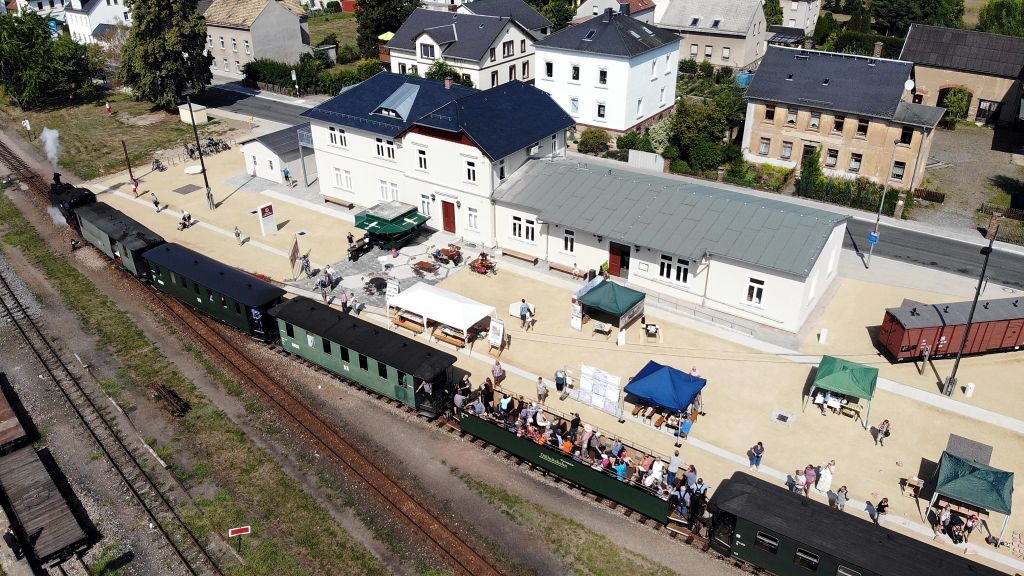 China clay (kaolin), also known as white earth or white clay in Germany is the most important constituent of porcelain. Everything about china clay and Europe's largest narrow gauge railway system can be heard, seen, marvelled at and played with by adult and child visitors of the multimedia exhibition. The presentation begins with the geological formation of china clay, shows how the material is extracted in surface and sub-surface mines, presents the history of the narrow gauge railway system and Mügeln station and shows the various industrial uses of china clay especially in ceramics.
Things to do at the Geoportal Mügeln Train Station "World of Kaolin"
Guided tours of the "World of Kaolin"
Georoute "Weg zum Kaolin"
5,9 km long circular trail to the viewing platform at the open china clay (kaolin) mine Schleben / Crellendorf belonging to the Kemmlitzer Kaolinwerke GmbH
Start and ends at the Mügeln Train Station
guided group offers: Historical and present day china clay open cast mining, 1000-year history of the diocese Mügeln, history of the financial centre Mügeln etc.
Thematic railway trips with diesel or steam locomotives on the narrow gauge train "Wilder Robert" to Oschatz, Glossen and Kemmlitz from Mügeln train station; see timetable of the Döllnitzbahn GmbH at doellnitzbahn.de, call timetable information at 034362 32343, info [at] doellnitzbahn [dot] de, Holiday programs in the Geoportal "World of Kaolin"
former Quarzite quarry in Glossen with mine train Glossen collection off historical mine trains, live action days under feldbahn-glossen.de The tourist cycle routes "Ostland-Radroute: History of Fruit Production" and the Döllnitztal-Radroute" pass the Geoportal "World of Kaolin".
The Saxony section of the Lutherweg hiking trail passes through the town centre .
Bike rental at the Geoportal Mügeln Train Station and return options at the "Bike houses" ("Radhäuser") at the train stations Mügeln and Oschatz
Nächste Veranstaltungen in den Geoportalen
Information
location
Bahnhofstr. 2 · 04769 Mügeln
parking area
Parkplatz am Geoportal Bahnhof Mügeln
contact
Stadtverwaltung Mügeln
Markt 1
04769 Mügeln
Tel. 034362 442906
Internet:www.stadt-muegeln.de

Opening Hours
Wednesday – Sunday
1.4. – 31.10.
10:00 – 17:00
1.11. – 31.3.
10:00 – 16:00
For privacy reasons Google Maps needs your permission to be loaded. For more details, please see our
Datenschutz
.
I Accept