Alluvial Quarry Ponds near Grimma
Panorama lake alluvial quarry ponds with quarry lake, Photo: Anja Hartmann

Panorama view north face of the alluvial quarry pond with tunnels, Photo: Anja Hartmann
Geotope type: Abandoned quarry
Rocks: Rochlitz quartz porphyry
Geological period: Permian (Rotliegend)
The alluvial quarry ponds, where Rochlitz quartz porphyry was mined, are located to the south of Grimma in the heart of the Grimma cloister wood between the two villages of Großbardau and Großbothen. The quartz porphyry originated from volcanic eruptions approx. 294 million years ago during which the Rochlitz caldera emerged. The Rochlitz porphyry developed during the explosive eruption of a mixture of hot gases, ashes and rock fragments (ash flow) that were carried away during the eruption. These rocks are called ignimbrite (Latin ignis = fire, imber = rain).
The former quarry has a diameter of approx. 150 metres and is filled with water. The quarry walls reach a height of 15 to 20 metres.
Two adits are located at the northern face of the quarry. The origin of the tunnels remains open to speculation. They were probably made towards the end of the Second World War as secret bomb-proof sites for relocating strategic industries. The liberation of Großbothen by American troops on 12th of April 1945 put an end to this project.
location
04668 Grimma
coordinates
N 51° 12′ 4.8; E 12° 43′ 29.3 (WGS 84)
4550765; 5674289 (Gauß-Krüger)
341052; 5674671 (UTM 33)
contact
Stadtverwaltung Grimma
Markt 16/ 17, 04668 Grimma
Tel 03437 98580
Internet: www.grimma.de
For privacy reasons Google Maps needs your permission to be loaded. For more details, please see our
Datenschutz
.
I Accept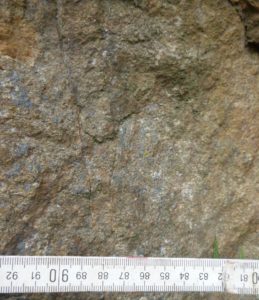 Close-up of the quartz porphyry, Photo: Anja Hartmann