Geotope type: Abandoned quarry
Rocks: Quartzitic greywacke
Geological period: Cambrian to Ordovician
Collmberg (Slavic: mound, crest), a hill near Wermsdorf, rises 316 metres above sea level and towers over the surrounding Wermsdorf forest by as much as 200 metres. The "Collm" is therefore not only one of the most prominent landmarks of today's Leipzig Lowland Bay, but as a hill it has also been visible for no less than 300 million years making it – along with Rochlitzer Berg – not only the oldest morphologic elevation in Geopark Porphyrland, but also in Saxony. From the Collm observation tower, which was erected in 1854, visitors have a good view of the lowlands and the distant Ore Mountains.
Collmberg consists of quartzitic greywacke which weathers considerably worse than other rocks. This is why the hill was able to last the millions of years as a butte. The greywacke developed from the sand deposits of an ocean that existed about 500 million years ago. The sands solidified during the course of geological history and transformed (metamorphised) under high pressure and corresponding temperature conditions and were then lifted up when the mountains formed during the Carboniferous. The greywacke is the oldest free- standing rock in Geopark Porphyrland that visitors can hold in their hands. The quartzitic greywacke is located in the abandoned Collmberg quarry. From 1835 until 1959 it was being mined as building material for houses and paths. The extremely hard material was however already being used during the Stone Age to make tools.
Collmberg, which towers above the lowlands, was already being used as a shelter and a defence position early on. At the top there is a more than one thousand years old late Slavic rampart. Between 1185 and 1259 the hill was the site of the highest court of the Margraviate Meißen. A geophysical observatory of the University of Leipzig has been located at Collmberg since 1902. Today it is one of the twenty stations of the German regional seismographic network which monitors earthquakes in Germany and throughout the world. It is also equipped for researching the earth's gravity and magnetic fields, and for measuring the wind in the upper atmosphere.
location
04779 Wermsdorf district Collm
coordinates
N 51° 18′ 3.304476; 13° 0′ 7.2675 (WGS 84)
4569988,7; 5685596,3(Gauß-Krüger)
360717,8; 5685182,1354794 (UTM 33)
contact
Gemeindeverwaltung Wermsdorf
Altes Jagdschloss 1
04779 Wermsdorf
Tel. 034364 811-0
Internet: www.wermsdorf.de
For privacy reasons Google Maps needs your permission to be loaded. For more details, please see our
Datenschutz
.
I Accept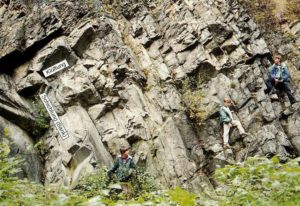 Collmberg quarry with an outcrop of quartzitic greywacke, Photo: Eißmann
Albertturm, Collmberg, Photo: LTM, Kati Lange
Close-up of greywacke, Photo: Harmann