The geotope quarry on Gaudlitzberg is about one kilometre south of Röcknitz. The top of the 220 metres high hill is covered with sandy loess from the glacial period. From 1890 to 1961 a variety of the Hohburg quartz porphyry with little or no pyroxene was exploited here. Because it was easily split, the porphyry was initially used to make paving stone and later gravel.
The quartz porphyry developed as a compact grained rock. The groundmass consists mainly of quartz and plagioclase. The dark minerals visible in the rocks are mainly biotites, very rarely also pyroxene. Although this porphyry developed during the eruption of the Wurzen caldera about 290 million years ago, magmatic fluidal textures are hardly recognisable.
Since 1997 the Gaudlitzberg quarry is being developed as a climbing rock by the German Alpine Association. There are numerous routes on the 20 metres high rock face. The top of the hill provides an impressive view of the Hohburg region. Once a year an outstanding event takes place at Gaudlitzberg: The international mountain film festival. This is the oldest of its kind in Germany, with the first festival taking place in 1998. Here a rock wall is used as a screen. The combination of special climbing events during the day and the screening of outstanding international climbing films at night provides the many visitors with an unforgettable weekend.
The Gaudlitzberg geotope quarry can be explored by bike along the geological discovery path. The 35 kilometres long cycling route leads past other geotopes. The geoportal at the Röcknitz Herrenhaus features an impressive display of the geological features of the region. Children can enjoy themselves at a volcanic playground.
location
04808 Thallwitz district Röcknitz
coordinates
N 51° 26′ 9.2; E 12° 47′ 31.3 (WGS 84)
4555181; 5700432 (Gauß-Krüger)
346532; 5700608 (UTM 33)
contact
Gemeindeverwaltung Thallwitz
Dorfplatz 5,
04808 Thallwitz
Tel. 03425 999910
Internet: www.gemeinde-thallwitz.de
For privacy reasons Google Maps needs your permission to be loaded. For more details, please see our
Datenschutz
.
I Accept
Close-up of the quartz porphyry of Gaudlitzberg, Photo: Anja Hartmann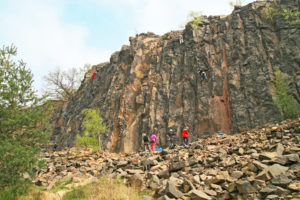 Climbing on Gaudlitzberg, Photo: Gerald Krug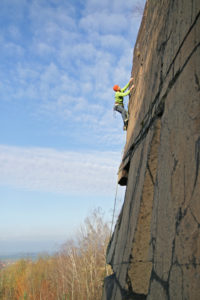 Climbing on Gaudlitzberg, Photo: Gerald Krug