Gleisbergbruch near Rochlitz
Geotope type: Abandoned quarry
Rocks: Rochlitz porphyry tuff
Geological period: Permian (Rotliegend)
Rising about 200 metres above the level of the river Mulde, the mountain Rochlitzer Berg is the most striking landmark between the Leipzig lowland in the north and the front basin of the Ore Mountain Range in the south. Since the 10th century the Rochlitz porphyry tuff has been mined in the quarries, some of which are up to 100 m deep. In the Middle Ages, millstones were produced from the red, partly red-violet to light red-brown porous rock with yellowish banding. It is also very popular as a sculptor's stone, because despite its hardness the stone is easy to work on. Even today, the stone that is sometimes called "Saxon Marble" is still used for profane and representative buildings. The Rochlitz porphyry tuff has been used in castles (Eilenburg, Kriebstein), palaces (Augustusburg, Frohburg, Rochlitz) and monasteries (Wechselburg, Buch). It can also be found at the Old Town Hall, the Grassi Museum or the new St. Trinitatis Church in Leipzig. The Rochlitz porphyry tuff was and is marketed Europe-wide as a cut stone. The grave of the philosopher Immanuel Kant (1724-1804) at the cathedral of Königsberg (today Kaliningrad, Russia) consists completely of stones from Rochlitz.
However, the Rochlitz porphyry tuff is not a pure tuff from volcanic ash, but a relatively weakly "welded" ignimbrite. It developed from several deposition events (pyroclastic density currents) and contains occasionally intermediate layers of tuffs. Geochemically, it is an acidic volcanic rock (rhyolite) that was formed about 294 million years ago during the explosive formation of the Rochlitz caldera. In contrast to the quarries downhill, at the Gleisberg quarry on the hilltop relatively uniformly rocks are outcropping. Therefore, the best cut stone is still mined from the neighbouring quarry, called Seidelbruch.
Since 2006, the Rochlitzer Berg has been one of the seventy-seven "National Geotopes" of particular geoscientific importance. Efforts are being made to achieve recognition as a Global Heritage Stone Resource. The aim is to honour natural stones that are important for human culture worldwide. The history of the porphyry tuff can be explored along the 2.7 km long Porphyry Nature Trail on the Rochlitzer Berg.
location
09306 Rochlitz district Noßwitz
Coordinates
N 51° 1′ 40.4; E 12° 46′ 17.6 (WGS 84)
4554235; 5655028 (Gauß-Krüger)
343733; 5655287 (UTM 33)

contact
Stadtverwaltung Rochlitz
Markt 1
09306 Rochlitz
Tel. 03737 7830
www.rochlitz.de
For privacy reasons Google Maps needs your permission to be loaded. For more details, please see our
Datenschutz
.
I Accept
View into the Gleisberg Quarry today, Photo: Bastian Rakow
The "Einsiedelei" (hermitage) built in 1817 on Rochlitzer Berg, Photo: Jochen Rascher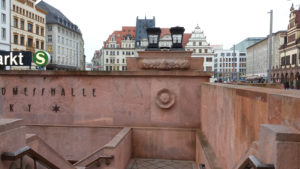 Porphyry tuff cladding decorating the underground trade fair building in Leipzig, Photo: A. Krüger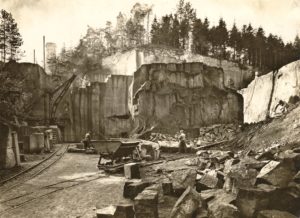 The active Gleisberg Quarry around 1930
Raw slabs and stone cladding made of  Rochlitz porphyry tuff, Photo: K. Fiedler