Geotope type: Abandoned quarry
Rocks: Quartz granite porphyry
Geologic period: Permian (Rotliegend)
Quartz granite porphyry was mined at Haselberg, a cliff rising 174 metres above sea level, until 1950. The quarry is now filled with water.
The granite porphyry has a reddish colour. Clearly visible are large embedded particles of feldspar. The porphyry was also used to erect the Monument to the Battle of the Nations in Leipzig. The rocks were formed approx. 289 million years ago in the Lower Rotliegend (Permian), when molten or semi-molten natural acidic material rich in quartz penetrated the existing body of rock and solidified as veins and stocks below the ground.
In 1999 the quarry grounds were purchased by the Saxon sport diving association Landestauchsportverband Sachsen e.V., who are now using the flooded quarry for training purposes. The area was developed into the sport diving and conservation centre Ammelshain (TANA). The lake is up to 27 metres deep, and it provides an impressive backdrop for sport diving enthusiasts. Along with the abundant fish life, you can also discover mining equipment from the former quarry such as abandoned tracks and trolleys.
But also hikers who simply want to enjoy the idyllic landscape of the "Haselberg-Straßenteich" conservation area will love Haselberg. The approx. 8 to 15 metres high steep faces which surround the lake create a unique image of a landscape that invites people to linger.
location
04683 Naunhof district Ammelshain
coordinates
N 51° 17′ 39.5; E 12° 39′ 18.1 (WGS 84)
4545796; 5684586 (Gauß-Krüger)
336508; 5685161 (UTM 33)
contact
Stadtverwaltung Naunhof
Markt 1
04683 Naunhof
Tel. 034293 420
Internet: www.naunhof.de
For privacy reasons Google Maps needs your permission to be loaded. For more details, please see our
Datenschutz
.
I Accept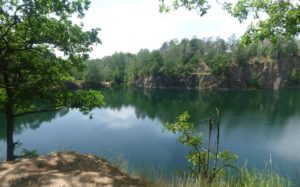 Photo of the lake with the steep faces, Photo: Anja Hartmann
Close-up of the granite porphyry, Photo: Anja Hartmann