Mühlsteinbruch at the Hasenbach near Sornzig
Geotope type: Abandoned quarry
Rocks: Kemmlitz porphyry, weathered
Geological period: Permian (Rotliegend)
In an old quarry in Sornzig, a district in the town of Mügeln, actually better known through the Marienthal Cistercian convent which was endowed there in 1241, is where the Kemmlitz porphyry is found. This is where from the 8th to the 13th century the rocks were crushed and rotating millstones were made for querns. This is how Sornzig got its name: Slavic Žornosĕky = millstone crusher / millstone quarryman.
The rock still existing today is also of great geological interest: It shows the Kemmlitz porphyry. In the exposed millstone quarry the weathering of the porphyry has already noticeably progressed. This can be seen in the whitish grey colouration (bleaching) of the rocks. The feldspar contained in the porphyry rocks was more or less changed into the mineral kaolinite. With the progression of this process through geological periods of time, an increasing amount of kaolinite is created and the solidified rock is "transformed" into kaolin. This is the white (china) clay, which is why the region around Mügeln is known as the "land of the white earth". The kaolin extracted in the Kemmlitz kaolin field in surface mining is used to make household ceramics, tiles and sanitary ceramics as well as electro and technical porcelain (insulators, catalysts).
The Kemmlitz porphyry is a porphyritic rock that was created by rising lava. It contains numerous crystals that developed inside the flowing lava (phenocrysts). The Kemmlitz porphyry is dated back to the time following the emergence of the Rochlitz caldera approximately 290 million years ago.
location
04769 Mügeln district Sornzig
coordinates
N 51° 12′ 37.4; E 13° 0′ 51.6 (WGS 84)
4570987; 5675536 (Gauß-Krüger)
361305; 5675092 (UTM 33)
contact
Stadtverwaltung Mügeln
Markt 1
04769 Mügeln
Tel. 034362 4100
Internet: www.stadt-muegeln.de
For privacy reasons Google Maps needs your permission to be loaded. For more details, please see our
Datenschutz
.
I Accept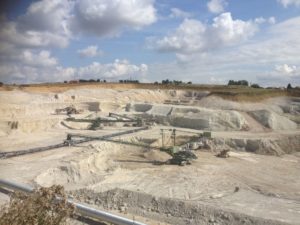 Kaolin surface mine Schleben-Crellenhain of the Kemmlitz kaolin works, Photo: T. Henkel, Kemmlitzer Kaolinwerke
Excavated medieval runner stone made of Kemmlitz quartz porphyry, late slavonic / early German (11th / 12th) in the garden of the former Sornzig Abbey; excavated by the State Office for Archaeology in Saxony 1977- 1978; Photo: W. Baumann (head of the excavation)