Quarries and Flora Conservation Area at Wachtelberg
The Wachtelberg area to the south of Wurzen offers hikers an ideal combination of scenic, geological and botanic-faunistic features in a very confined area. With its 148 metres Wachtelberg hill is a distinct landmark in the region that towers above today's Mulde valley. The Mulde confluence has been using this valley as a drainage pathway since the end of the Saale glaciation, i.e. for more than 130,000 years now.
Since 1909 one of the 240 towers dedicated to Bismarck in Germany between 1869 and 1934 and made of Lüptitz quartz porphyry stands on Wachtelberg. During good weather the view from the Bismarck tower is a unique experience: In the northeast you can see the porphyry Hohburg hills, towards the southeast the greywacke top of Collmberg is visible, and to the southwest you can see Leipzig Lowland Bay.
Pyroxene granite porphyry crops out at Wachtelberg. That is a magmatic rock that originated about 290 million years ago during the intensive volcanic activity at the Wurzen caldera. During this event molten rock (magma) rose in the surrounding rocks and solidified below the earth's surface as veins and stocks. The mineral pyroxene in the fine-grained groundmass of the rocks causes the greenish colouration. Porphyry has been mined in numerous small quarries called "farmer's quarries" (Bauernbrüche) around Wachtelberg from medieval times until the 19th century for local use as a building material.
The whole Wachtelberg has been enjoying a protected status since 1911 because the last Saxon pasque flowers (Pulsatilla vulgaris), more commonly known as wild daffodils, are found there. In 1954 the protection status was extended to animals and since 1992 Wachtelberg together with Mühlbach valley is now a natural reserve. Various biotope types have become a safe haven for plants which are now on the Red List of endangered biotope types in Saxony, including the cluster head pink, the stone orpine, the marsh daisy and the bloody geranium. The great crested newt and the green toad as well as the lake and tree frog have all survived in the waters; with a little bit of luck you can even see kingfishers and river otters at Mühlbach.
location
04808 Wurzen district Dehnitz
coordinates
N 51° 21′ 4.99; E 12° 44′ 18.3 (WGS 84)
4551548; 5690993 (Gauß-Krüger)
342516; 5691327 (UTM 33)
contact
Stadtverwaltung Wurzen
Friedrich-Ebert-Straße 2
04808 Wurzen
Tel. 03425 85600
Internet: www.wurzen.de
For privacy reasons Google Maps needs your permission to be loaded. For more details, please see our
Datenschutz
.
I Accept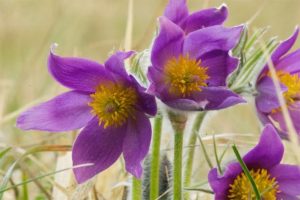 Blooming pasque flowers (daffodils), photo: Lothar Andrä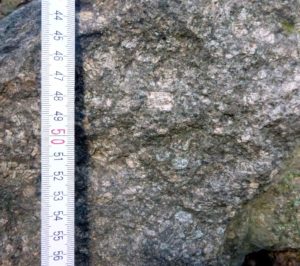 Rock structure of pyroxene granite porphyry from Wachtelberg, photo: Anja Hartmann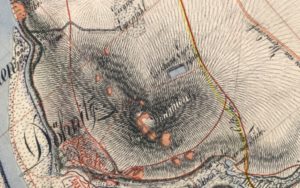 Detail from the Sächsischen Meilenblatt (Saxon topographic land survey map) with the Bazer quarries (light brown) at Wachtelberg, mapped 1807