Red Porphyry Wall at Mildenstein Castle near Leisnig
Geotope type: Cliff
Rocks: Leisnig porphyry (Porphyritic quartz porphyries)
Geological period: Permian (Rotliegend)
High above the Freiberger Mulde is where Mildenstein Castle thrones on a spur near Leisnig. It was already erected in the 10th century and elevated to the rank of an imperial castle by Kaiser Barbarossa in 1158. Mildenstein Castle is thus one of Saxony's oldest fortifications. The castle houses the Leisnig Giant Boot which with its height of 4.9 metres is the world's largest bucket top boot.
The spur consists of Leisnig porphyry. In pre-industrial times the rock was used as a local building material, e. g. for erecting the castle itself. Within the geographic range of the Leisnig porphyry up to four different rock varieties – porphyry with varying mineral compositions and therefore also different colours and structures – are distinguished. However, the volcanic rocks, which because of their similar appearance are lumped together as so-called porphyritic quartz porphyries, dominate. They can also be seen at the no less than ten metres high exposure of the Red Wall below Mildenstein Castle.
The porphyry reveals an almost horizontal flow texture of the former magma which is clearly visible through the differences in the surfaces exposed through the weathering effects. Previously Leisnig porphyry was considered to be a product of a shield volcano that was formed by lava and ash eruptions. But it could also be magma that already solidified while rising in the surrounding rocks below the earth's surface.
location
04703 Leisnig
coordinates
N 51° 9′ 54.8; E 12° 55′ 23.3 (WGS 84)
4564678; 5670428 (Gauß-Krüger)
354794; 5670246 (UTM 33)
contact
Stadtverwaltung Leisnig
Markt 1
04703 Leisnig
Tel. 034321 66660
Internet: www.leisnig.de

For privacy reasons Google Maps needs your permission to be loaded. For more details, please see our
Datenschutz
.
I Accept
Leisnig and Rochlitz porphyry used as a building material (lower right) in the Cistercian monastery Buch near Leisnig from the 12th century, Photo: G. Weber, TV SBuHL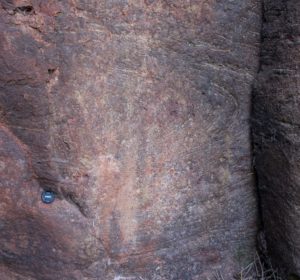 Fold structure and roundish hollows in the Leisnig porphyry, Photo: G. Weber