Source of the Parthe river "Gossenborn"

Geotop type: River source, "Gossenborn"
Geologic period: Holocene
The (main) source of the Parthe river, lies about five kilometres northeast of Bad Lausick in the heart of the Colditz Forest. The so-called "Gossenborn" is named after the forest area called Gossa in the 15th/16th century. Together with the adjacent Glasten Forest, they form one of the largest forest areas in Saxony. Colditz and Glasten Forest have been popular recreational areas for more than 100 years. The "Gossenborn" with its gentle splashing invites to linger. Along the way there is a nature trail which brings interested people closer to the local flora and fauna and is therefore a good destination for families.
The spring, which rises 208 metres above sea level, is part of a fan of more than ten individual streams. The resulting Parthe meanders through numerous towns and villages and flows into the White Elster in Leipzig-Gohlis after about 58 kilometres while overcoming 105 metres of difference in altitude. The name Parthe comes from Slavic and means "the stinker". From the village of Parthenstein, the river uses the Early Saale glacial period riverbed of the Leipzig Mulde, which was excavated more than 150,000 years ago. The gravel sands mined today in the open-cast mines near Naunhof were deposited during this period.
The catchment area of the Parthe covers a total of approx. 360 square kilometres. The 51 km long Parthe-Mulde cycle route leads from Grimma via Naunhof, Borsdorf and Taucha to Leipzig through the charming cultural landscape in wide stretches parallel to the Parthe. Large parts of the river course are protected as a "Parthenaue – Machern" landscape conservation area.
location
04651 Bad Lausick
coordinates
N 51° 8′ 33.1; E 12° 43′ 36.6 (WGS 84)
4550971; 5667748 (Gauß-Krüger)
340991; 5668128 (UTM 33)
contact
Stadtverwaltung Bad Lauick
Markt 1
04651 Bad Lausick
Tel. 034345 7010
Internet: www.bad-lausick.de
For privacy reasons Google Maps needs your permission to be loaded. For more details, please see our
Datenschutz
.
I Accept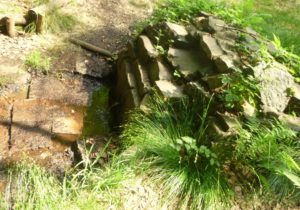 Natural monument of the Parthe source, Photo: Anja Hartmann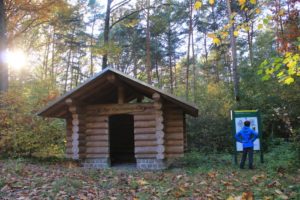 Rest area "Zur Parthenquelle" Photo: LTM, Kati Lange
Source of the parthe river, Photo: LTM, Kati Lange